sign up now
Classes By Month
[{"title":"Friday June 2 7:00 to 9:30","start":"2023-06-02","url":"https:\/\/paintandunwine.com\/product\/friday-june-2-700-to-930\/","imgsrc":"https:\/\/paintandunwine.com\/wp-content\/uploads\/2021\/11\/9271381F-C716-4D19-A3D3-07753CAABB22-168x300.jpeg"},{"title":"Sunday June 4 3:00 to 5:30","start":"2023-06-04","url":"https:\/\/paintandunwine.com\/product\/sunday-june-4-300-to-530-2\/","imgsrc":"https:\/\/paintandunwine.com\/wp-content\/uploads\/2020\/06\/CA0126BF-0308-4637-A2F6-CEDF376E69C2-238x300.jpeg"},{"title":"Thurs June 8 7:00 to 9:30 pm","start":"2023-06-08","url":"https:\/\/paintandunwine.com\/product\/thurs-june-8-700-to-930-pm\/","imgsrc":"https:\/\/paintandunwine.com\/wp-content\/uploads\/2022\/05\/6F4ECCD3-56D5-4FD1-91FE-1FC1D1FDCD41-240x300.jpeg"},{"title":"Sunday June 11 3:00 to 5:30","start":"2023-06-11","url":"https:\/\/paintandunwine.com\/product\/sunday-june-11-300-to-530\/","imgsrc":"https:\/\/paintandunwine.com\/wp-content\/uploads\/2022\/04\/2EE90451-2813-4C5F-BA08-E38E1781F94A-237x300.jpeg"},{"title":"Thurs June 15 7:00 to 9:30 pm","start":"2023-06-15","url":"https:\/\/paintandunwine.com\/product\/thurs-june-15-700-to-930-pm\/","imgsrc":"https:\/\/paintandunwine.com\/wp-content\/uploads\/2021\/05\/B2C98D2F-E84D-4851-BF44-886E65CE1C1E-300x228.jpeg"},{"title":"Sat June 17 7:00 pm to 9:30 pm","start":"2023-06-17","url":"https:\/\/paintandunwine.com\/product\/sat-june-17-700-pm-to-930-pm\/","imgsrc":"https:\/\/paintandunwine.com\/wp-content\/uploads\/2018\/05\/4016ED75-5378-405B-B42C-E9DD1266F6E2-236x300.jpeg"},{"title":"Friday June 23 7:00 to 9:30","start":"2023-06-23","url":"https:\/\/paintandunwine.com\/product\/friday-june-23-700-to-930\/","imgsrc":"https:\/\/paintandunwine.com\/wp-content\/uploads\/2019\/05\/8BBB7FD9-ECDB-4EE1-9D7F-32970CBC9D47-249x300.jpeg"},{"title":"Sat June 24 7:00 pm to 9:30 pm","start":"2023-06-24","url":"https:\/\/paintandunwine.com\/product\/sat-june-24-700-pm-to-930-pm\/","imgsrc":"https:\/\/paintandunwine.com\/wp-content\/uploads\/2022\/09\/yellow-sunset--225x300.jpg"},{"title":"Sunday June 25 3:00 to 5:30","start":"2023-06-25","url":"https:\/\/paintandunwine.com\/product\/sunday-june-4-300-to-530\/","imgsrc":"https:\/\/paintandunwine.com\/wp-content\/uploads\/2022\/11\/flower-240x300.jpg"}]
In-Studio Classes are Back!
We're excited to welcome you back for In-Studio public classes again, right here in Redondo Beach! Please review our COVID-19 guidelines before joining us and help us all keep each other safe.
Classes
All art supplies will be provided, canvas 16×20, acrylic paint, easel, aprons, and brushes. Please arrive 15 minutes early. Ages 21 and older only.
Food & Drink
You can purchase beer, wine, and non-alcoholic beverages. You may also bring your own wine. There is a $12 corkage fee per bottle.
Food is also permitted. sign up now
Clothing
Wear something comfortable. Aprons will also be provided to use for the evening.
Private Events
Book Your Private Party or Corporate Event Now!
Select Your Own Masterpiece From Our Collection
A link will be emailed to you so you can choose your painting!
Choose from 2 hour ($40/person) or 3 hour ($45/person) paintings.
Schedule Your Party Any Day of the Week
We have morning, afternoon and evening slots available.
Please arrive 30 min prior if you need to set up anything.
10 Guest Minimum and $200 Deposit Required
Please call us for offsite events. We can bring the party to you.

Every time I pass by a paint and wine experience place I was always jealous of the customers since it seemed so fun. Finally made the decision to try it out for a late valentines date.  

I honestly really enjoyed the Experience and so did my partner! They have a wide variety of white/red wine to choose from and other alcoholic beverages as well.

The instructor was super fun and his teaching style was great. Whenever someone made a boo boo on their painting he would come to the rescue to either erase the mistake or someone make it alright looking.

It was an amazing experience. Very good vibes, everyone else that was there was really nice as well.10/10 would do it again.

Michelle N.


2/17/2019

Nothing like a girls night out to DE-STRESS!!. Me and my friends had an amazing first time Sip and paint experience. The owner and his colleague was so patient. If you're looking for a fun experience with you and your friends this is definitely the place!!!!  I live all the way in downtown LA area the service was so worth the drive! the area also is very nice. Parking is provided. S/n immediately After class ended at 930 pm We went to a mexican restaurant less than 2 miles away called Kalaveras (also nice) you should also check out they stay open until 1am.
Thanks again! I will definitely be coming back a second time.https://www.kalaveras.com/

Sabrina D.


12/04/2021
Gift Cards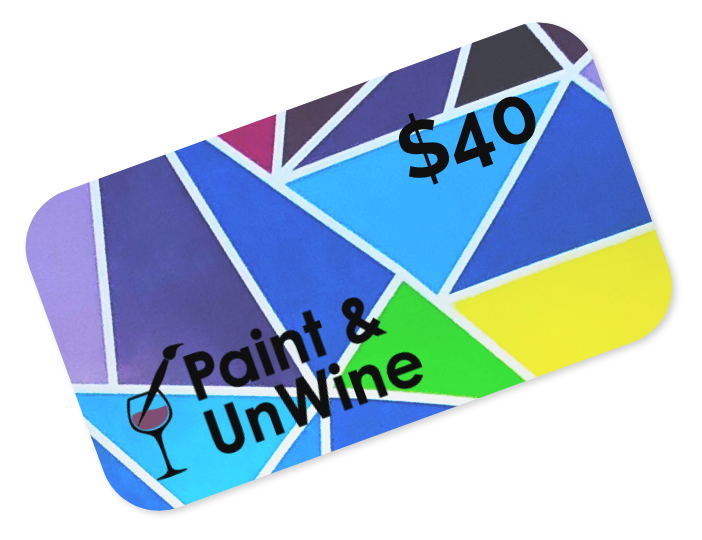 The Perfect Gift for Anyone!
Good for 1 Class